OLANN MERINO LIGHT-WEIGHT JACKET
Merino wool is incredible. Created from 100% natural fibers, Merino wool is loaded with game-changing features. Proven to be the best next-to-skin performance fabric one can wear. Lightweight, breathable and moisture wicking fabric offers the benefits of superior insulation, natural odor control, and complimentary wrinkle resistance. From cold temps to hot days, Merino wool is a staple to have for everyday wear in any climate.
Multi-column
Features & Tech
Weight 16.8 oz | 476 g | L
PRÒI-Stretch™4-Way Stretch for superior range of motion
Natural fiber features help regulate body temps, promoting airflow, keeping you comfortable in warmer temps.
When temps dip low, the same natural fibers work in reverse, redistributing your bodies heat keeping your warm.
Natural Moisture Wicking properties pulls moisture away from skin keeping you dry and comfortable in hot and humid conditions.
Natural Antimicrobial Odor Control safely mitigates odors caused from sweat.
YKK Full Zippered front
Fitted Scuba Hood for added protection against the elements that won't impede your peripheral vision.
Shape Recovery We added the perfect amount of Lycra to help the shape and retention recovery for the life of the garment.
Next to skin softness when it matters most
Multi-column
Proi-Fresh
Proi-Fresh represents sustainable and highly effective odor control technology that inhibits antimicrobial growth and neutralizes odors. 
Proi-Stretch
4-Way Proi-Stretch fabric stretches and recovers in all directions for maximum comfort and is perfect for use in activewear.
product care
For Best Results: Machine wash cold. Line or tumble dry low heat.
For Worst Results: Drag through puddle behind vehicle. Air dry on roof rack.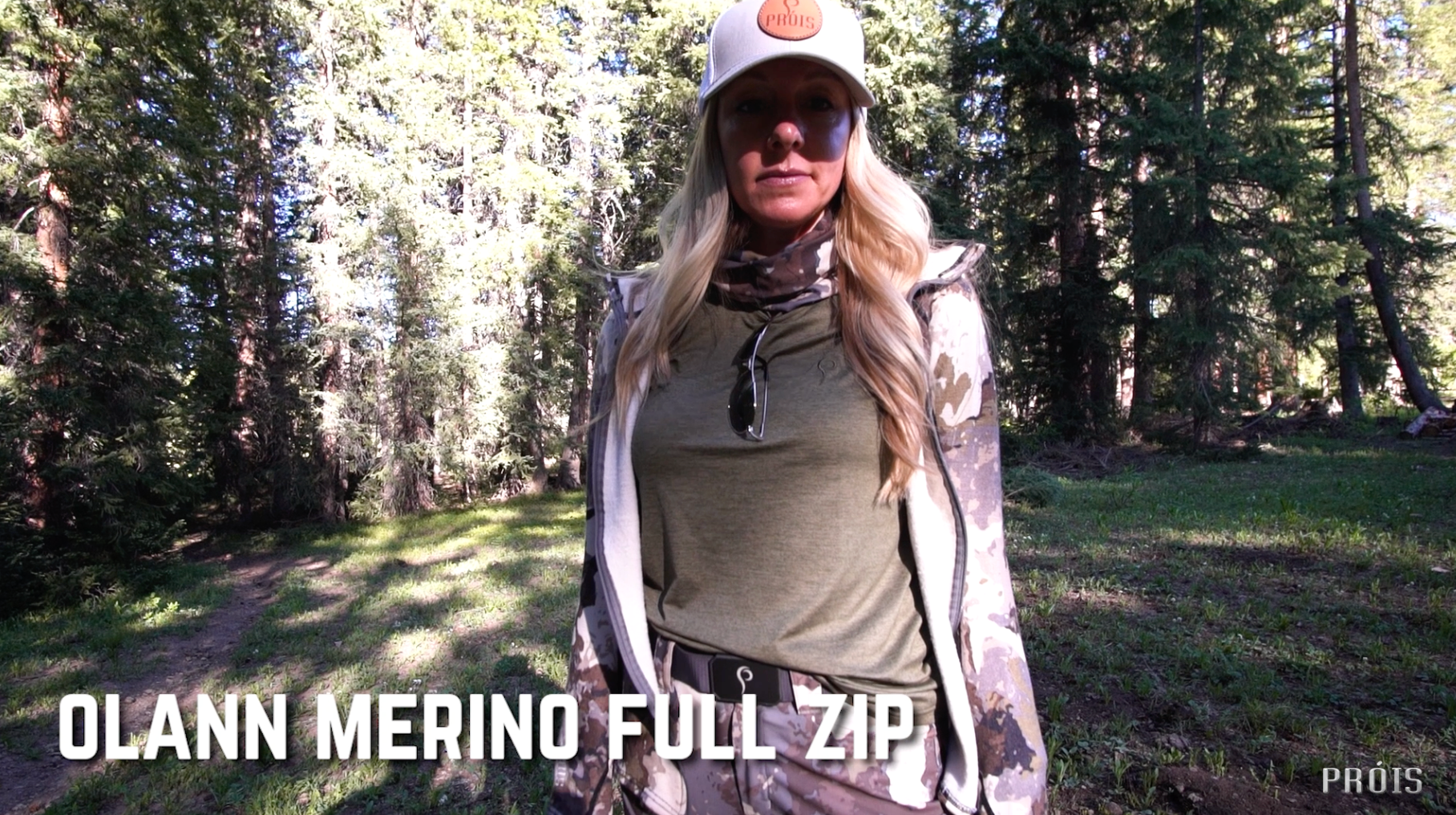 Great jacket!
Jacket is heavy weight merino wool. Very warm, very comfortable. Great layering piece as temperatures get colder. Worn as outer jacket with Olann merino 1/2 zip top on some warmer days of hunt. I love the fit, not binding in shoulders. I can't wear any wool but merino. These pieces are an absolute necessity for me to be comfortable while hunting!
Super versatile!
One of my new favourite pieces for being outdoors! An amazing hoodie - warm enough to wear as a jacket on cool days, but also fantastic as a layer under a warmer coat when the temperatures drop. LOVE the material - stretchy and soft! Paired it with my Callaid jacket and Dionla shell this fall for White-tails, and it was a fantastic layering piece! Under Athru or Greann it would get you into the REALLY cold temps with no issues!
Great Lightweight Jacket!
This is a great lightweight jacket and is perfect for living in Southern Nevada. Hubby just gave it to me for my birthday so have only worn it duck hunting so far, and it is perfect as day gets warmer.
***I would love to be able to have this with camo on the inside of the hood. The hood is currently white on the inside so if I wear this with the hood down it's much more noticeable. Camo inside the hood would take this jacket to the next level stealth-wise.
So far so good!
This jacket fits me so perfectly and will be a great addition to my layering system. I have not yet put it to the true test, but having a few other pieces of Prois merino that I have worn, I have no doubt that it will not disappoint. I have struggled for so long to find hunting gear that properly fits me (tall, long legs, not much for hips), but then I found Prois and I have not turned back!
Make sure this is covered if walking through woods.
This was hands down my favorite prois piece purchase, I couldn't say enough good about the comfort, warmth, and versatility of this jacket until I got into burrs tracking a deer this year. I'm not able to remove them all from the fabric on the sleeves…I've reached an end point on attempting to get them out and am afraid this jacket will just need to be tossed. My torai pants I had on with this also got covered and I was able to remove them there, but it shredded the little fibers of the fabric so now those just look terrible.