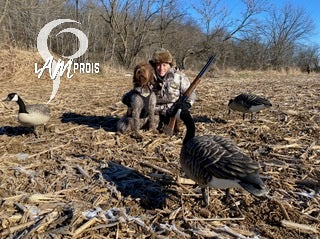 From The Prois Pros! Marcia Hoff's Tips For The Novice Dog Trainer
By:  Marcia Hoff- Prois Staffer
Have you always wanted to hunt over your own bird dog, but have no idea on how to go about training a dog? Well, don't let your inexperience stop you! Seriously, if I can train dogs to the level of Master Hunter and Utility Dog, anyone can! Heck I didn't even know what a choke was in a shotgun when I started my hunting journey in my mid-forties! So here are a few things that I think are key in getting started.
First and foremost, don't be scared! Everyone makes mistakes in their training. And most mistakes are recoverable with a little time. If you do nothing because you are unsure how to proceed, that is exactly what you will get… nothing!
Find a mentor. In today's world of social media it is so easy to find folks with similar interests and get connected. I personally think the best beginning help comes from people with experience in the same breed. You will feel more comfortable with them, and they will be the most willing to talk you through problems. Another way to make connections is to join organizations like NAVHDA and NAHRA. Go to training days with the plan to spend the day helping the pros with the grunt work, and then soak in information like a sponge! Don't be afraid to ask questions!
Keep it fun! We hunt because we enjoy it, and training should be enjoyable, too! If you hit a wall, take a break, and give yourself time to read the situation. Your dog senses your frustration, and will only become more confused on what is desired, if you continue down the same pathway. Remember, the vast majority of dogs want to do the right thing, so it is our job to make sure they understand what we want. Most dogs only fail because they did not fully understand the task.
Start small. Break the process into workable pieces. If you go to an event and watch the dogs who are steady to wing, shot and fall, retrieving to hand, and honoring, all without commands, it can be a little daunting. Those dogs were once crazy, unruly puppies, and it takes time to get where they are. Plus, you don't have to train your dog to those advanced levels to have a great hunting partner. Think about what your needs are and start with that goal. Then let time show you if you enjoy the training game and want to take it further.
No matter how far you take your dog, you will win, because the time spent with your hunting buddy will only cement your bond. A dog who gets to use its inbred instincts will be a better family pet and an even more pleasurable housemate. In my opinion, there is no downside to training your dog, so in the words of Nike, JUST DO IT!